Number Stacks is a UK product and we are unable to accept orders from customers outside of the UK at the present time.
Number Stacks is perfect as a whole-school intervention to help address gaps in understanding for pupils in all primary year groups. With its Initial Assessments and Fluency Activities at the end of each video tutorial, it is easy to evidence progress as pupils work their way through the Key Skills.
The case studies below show the impact that Number Stacks has had in some of the many schools around the UK who are using the resources.
Our School Sets:
We have two different school sets available to purchase: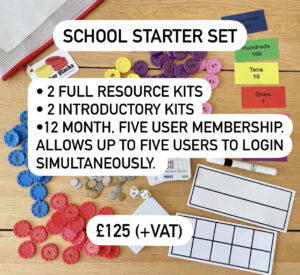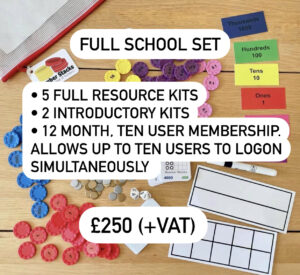 *Please note that in order to keep the price of our resources low, the counter labels are provided separately within the resource kits and need to be applied by the user.
Click here to order and pay online (UK Schools only) or email us directly 
from a school email address to order with payment via invoice:
support@numberstacks.co.uk 
Membership Renewal Rates:
If your membership is due to expire, you can email us to arrange renewal via invoice or can pay online via the School Membership Renewal page (you will need to be logged in to access this page)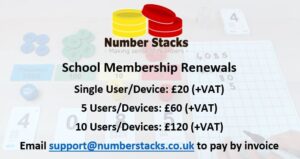 Why use Number Stacks?
A clear maths support programme with easy to follow, staged activities moving from concrete resources to mental and written methods of calculation
Covers over 69 Key Skills from EYFS to Year 6 - Click here to view the Number Stacks Key skills
Easy to use - no expensive training required
Video tutorials explain and demonstrate activities so no complicated instructions to read and saves teachers having to plan and explain activities to supporting adults
Everything required is in the Resource Kit so no time wasted gathering equipment
Initial Assessments to identify gaps in learning, combined with Fluency Activities at the end of each video, can be used to evidence progress
Over 50 practical game ideas to help consolidate learning
An ideal way to use Pupil Premium Funding to support learning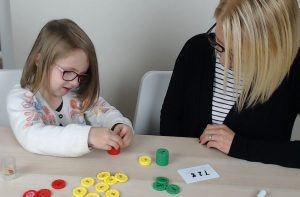 My extremely talented LSA has been delivering the @NumberStacks intervention to three of my Y6 children every morning and I've got to say, whilst I've not found many bought in interventions I like, this has been superb. It's benefited all three but absolutely transformed one.  His confidence in maths is through the roof. He's accessing lessons better, understanding numbers more deeply, he can round ANYTHING and (and I know it's not all about the test) he's gone from 4 marks on a Y6 arithmetic to 21. It's got my seal of approval. @MrBoothY6 17-12-19

I must say that we bought a kit for each of my schools in January and it is the first time I have had children begging to do more maths with me! A fabulous intervention! Cracked rounding with a y5 child this week.  Best intervention I have ever used in my ** years of teaching! @janandem 28-02-20