Obviously we recommend using our Number Stacks resource kits with their durable, tactile and stackable place-value counters to accompany our video tutorials.  However, if you are unable to purchase a resource kit for any reason (e.g. you live outside of the UK) then you can use the PDF files below to print and make enough elements to have a go at the activities in our video tutorials. Once you have made your DIY Resource Kit, don't forget to sign up to our FREE TRIAL to access all of our Video Tutorials, Fluency activities, Assessments and Games.
The Place-Value Counters can be cut out and mounted onto card (the thicker the better).
Our Number Stacks Digit Cards and Header Cards can be cut out and also mounted on card or better still, laminated if you have access to a laminator to keep them in good condition.
The Tens-Frames and Bar-Models would also benefit from being laminated so that you can write on them but an alternative suggestion would be to pop them inside a plastic document-wallet so that you can write on them as many times as you like with any dry-wipe pen.  The templates are aligned so that they can be printed as a double-sided document.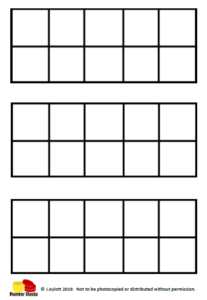 Finally, to save wasting paper, below is a template for an A4 Whiteboard which you can (once again) either laminate or put inside a plastic document-wallet to make it re-usable.