This page enables Home Educators to purchase a Number Stacks Full Resource Kit & 12 months Membership at a special discounted price arranged through All Ways Educating Educational Discounts (www.awediscounts.com).
We are offering 20% OFF the cost of a Full Resource Kit and 12 month membership bundle meaning you get everything you need for a whole year for ONLY £40!
This special offer is a one off purchase price with no ongoing commitment. The Resource Kit - which contains all the equipment you need to complete ALL the activities demonstrated in the video tutorials - will be yours to keep and when your online membership expires, it will switch to a Basic Level (which still gives you access to all the games) and you can then decide whether or not to purchase an additional Membership period.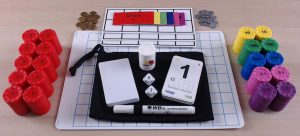 *Please note that in order to keep the price of our Resource Kits low, the counter labels are provided separately and need to be applied by the user.
In the interest of security, all payments are processed securely through Paypal (although a Paypal account is not required) so we never see or store your payment details.
Purchase Full Resource Kit & 12 Month Membership Bundle (£50 £40 + £3 P&P):
Resource kits will be dispatched via Royal Mail and should arrive within 5 working days, subject to stock availability (mainland UK only). 
Coronavirus Update: We are currently still posting Resource Kits within 2-3 working days of orders being received, often sooner.  Please be mindful though that in light of the current situation, delivery may take a bit longer than usual.
Your resource kit will contain a unique registration code and instructions to set up your online membership.
If you have any problems or questions, please contact us at
support@numberstacks.co.uk
Before you register your membership, please read our Privacy Policy: Click here to download our Privacy Policy
NB. To prevent membership sharing, if a single membership is used on multiple devices at the same time, this will result in the membership being temporarily suspended until the account is unlocked.